Borderline Personality Disorder, David Cassidy and Letting Go
Ten years ago, I went to a David Cassidy concert in Perth and pressed myself up against the stage for him to come down and hold my hand, which he did.  But apparently I held on for so long he had to scream in my face, "LET GO!"
That was the best advice I have ever received.  I have finally taken David up on his offer and would like to take this opportunity to thank him for his insight and wisdom.  I have let go.  I have let go of all that emotional baggage I have been carrying around with me for nearly fifty years.
Imagine carrying fifty kilos of rubbish on your back, an amount that has accumulated with every year you have lived on this earth, then picture yourself dumping it forever down a deep, deep shaft.
After embracing mindfulness and acceptance I have done that and the feeling of freedom that entails is quite an intoxicating experience.  That is not to say my problems have vanished in a puff of blue smoke; quite the contrary, they are still there only now I have a different attitude towards them.  I am not carrying them on my back.  They appear to have taken on an amorphous, abstract quality whereby they exist somewhere in space and time but are no longer part of me.  They are a separate entity that has no power, no legitimacy and no control over my thoughts, feelings, actions and behaviours.
This was achieved by embracing the Buddhist idea of impermanence.  Everything is impermanent, including this conscious life.  At (almost) fifty I am young enough to have the physical capacity and some original energy to achieve my latest goals and old enough not to care what other people think of me in the process.  I have spent the first part of my life learning in order to fully enjoy the next part of my life.  I see ahead of me at least thirty years of living in the moment, being present to every sensation, every thoughtful reflection and a mind that has learned the value of highlighting only the great stuff I have achieved.
One of the buzzes of my life that I think about a lot, is the people who read my blog.
Who are you?
What are your lives like?
Have I touched you in any way?
Have I annoyed you?
Angered you?
Given you a new reason to live your life more authentically?
There are many of you whom I have engaged with in email conversation; People from America, Bahrain, Sweden, Holland, France, England, Germany, New Zealand, Singapore, Australia (my home town) and many other countries.
I feel honoured and privileged to let you know that you have all been part of my healing process.  Even after three years I still get excited when I post a new blog and watch the numbers of people who have read it climb to over a thousand overnight.  I love your comments, the good and the bad, but the ugly I either delete or pass them onto John Grohol.  I have only ever done that three times.
No-one in my real life reads my blog because they do not know about it.  I do not give out the link because this is a part of my life that is private and confidential and that is why it works.  In my real life I do advocacy as a peer worker and I tell a different story of despair, hope and recovery.  Especially the recovery part.
Therefore I have boundaries around my blog.  Having strict boundaries around parts of my life is a new concept to me.  I always thought everyone needed to know everything.  Now I am very selective about who knows what.  This means that I no longer have the urge to pass on toxic information otherwise known as gossip.  As a result I have been trusted by sensitive, vulnerable people with their life history and many secrets.  This does not trigger me, but it empowers me to hug and hold onto who they are and the trust they feel in me.  The power of a secret is in how to hold it so the container does not get damaged.  It's about holding on and letting go at the same time without feeling weighed down by the sheer magnitude.
I held onto David Cassidy's hand for too long and he wanted me to let go.  And I did.  I still have the body memory of his hand.  I also want him to know that I have let go, of the past, of all those excruciatingly poisonous memories, of people who were not there for me during traumatic times, who did not understand my sensitive, vulnerable self and who chose to ignore me when I reached out.  I have let go of all of you and now live my life without the restrictive, invisible, self-imposed forces that ruled over me like a tyrannical despot.
In the words of Viktor E Frankl:  Between stimulus and response there is a space. In that space is our power to choose our response.  In our response lies our growth and our freedom.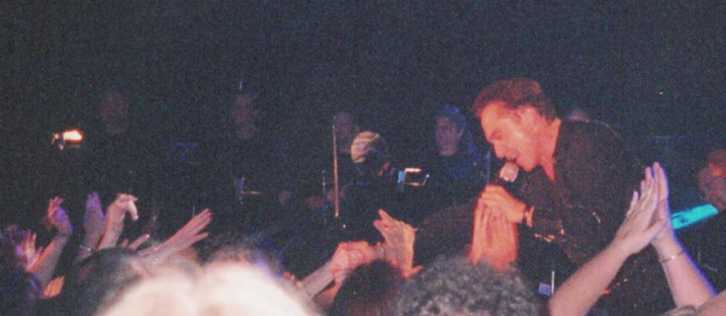 Photos: http://www.davidcassidyfansite.com/InPrintPages/DCNewsletter2006Nov.html and http://www.apeculture.com/music/cassidy.htm
Please share with your friends:
APA Reference
Neale, S. (2011). Borderline Personality Disorder, David Cassidy and Letting Go. Psych Central. Retrieved on May 23, 2017, from https://blogs.psychcentral.com/unplugged/2011/11/borderline-personality-disorder-david-cassidy-and-letting-go/