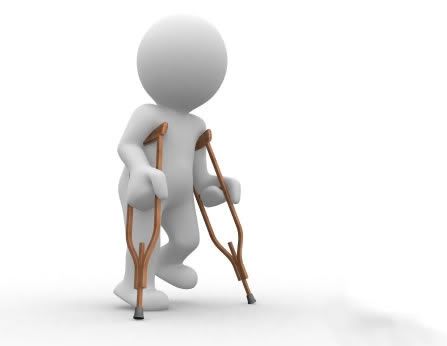 The other day, I passed a woman on the street who was gingerly walking along with a bit of a limp and only one crutch. It seemed unusual, as crutches so often tend to travel in pairs. And it made me think about our emotional crutches.
So often, these emotional kinds of crutches get a bad rap. I can't count the times I've heard or read about how we 'should' be giving them up, throwing them away, or that it's somehow a sign of moral weakness to even have them in the first place. 
Whatever form they take – emotional eating, over-working, drinking more alcohol than we might like, perfectionism – the dominant idea out there seems to be that we 'should' just be able to cast these crutches off and walk unhindered into a better life. 
But the thing about crutches is that you usually use them when you're hurt. 
They come in handy when there's been some damage, some pain, and some kind of compromise to the strength you had before. 
Crutches literally help us get back on our feet. 
So, perhaps instead of admonishing ourselves for having emotional crutches at all, it might be useful to try looking at this another way… 
If you're using a crutch of some kind, then where are you hurt? 
Where is the broken bit in you that wants to heal? 
When was it damaged? And by what? 
How might it feel to acknowledge that part of you?
To listen to what it has gone through, and to hear what it needs to start healing again? 
And if that happens to be a 'crutch' of some kind, then perhaps consult with yourself about how long you might want this kind of assistance. Maybe ask yourself what signs to look for that will tell you when you're on the mend – how you'll know when you're getting strong enough to try walking independently again.
And, finally, like the woman I passed in the street, perhaps giving up the various crutches we've gathered in life might be a gradual process. A process that we might move through awkwardly at first. One that we might need to practice for a while. A process that might affect our balance and our speed as we learn to let go of one crutch at a time and slowly find our footing again…
If you think about your emotional crutches from this perspective, how might it change the relationship you have to them? 
(And how might it change the relationship you have with yourself?)
Image: jdiddy1977
Gabrielle Gawne-Kelnar (Grad Dip Counselling & Psychotherapy) is a Sydney psychotherapist in private practice at One Life Counselling & Psychotherapy. Gabrielle also co-facilitates telephone support groups for people who are living with cancer, for their carers, and for people who have been bereaved through a cancer experience. She is the editor of a journal on counselling and psychotherapy, the author of a private practice blog, and she provides regular therapeutic updates on facebook and Twitter @OneLifeTherapy.
Learning to Walk Without Your Emotional Crutches