Messages mothers give to their daughters about the sovereignty of their bodies, what they owe others socially, and the sacred beauty of their sexuality is how we turn the tide of assault around.
How do prevent sexual assault in the first place? It begins with the messages mothers give to their daughters. We must rewrite, rethink and reconfigure how we talk to our daughters and in doing so, we will heal ourselves.
By making these 3 promises early on, mothers can send clear signals to their young daughters.
Transcript
Speaker 1:                              00:01                       Oh, just give aunt so and so or uncle so and so, a hug. They gave you this nice gift. They're so happy to see you.
New Speaker:                      00:12                       Where's that pretty smile? Put a smile on your face. All these messages that we give our daughters, I think to lay a foundation, um, that when there are enough of them, daughters feel ambivalent about what they owe other people and what they owe themselves.
New Speaker:                      00:41                       So they feel conflicted about it. And it starts with the messages that mothers give. Very, very young daughters because if you think about it, the bodies, the baby comes from the mother's body. So a child naturally looks to the mother for protection and direction about her body. You know what's okay, what's not okay?
New Speaker:                      01:08                       And these subtle messages I've said them, they just come, came out of my mouth when I was raising kids.
Speaker 1:                              01:18                       As a woman, particularly in the south, I was trained that other people's comfort is more important than my own.
New Speaker:                      01:27                       So I didn't think this consciously… I didn't, you know, do the math inside my own head, but as a little girl, giving somebody a smile and making them feel good when you feel good..that's a wonderful thing.
New Speaker:                      01:42                       Or if you feel grateful for a gift or someone's attention …if you feel like giving a hug back, that's a wonderful thing.
New Speaker:                      01:54                       But if you are asked in some way to override your own natural feeling, then you're taught to put others' needs, wants and desires for you ahead of your own sense of sovereignty or power over your body.
New Speaker:                      02:18                       So what I want to do is to ask other women and other mothers to make these promises to our daughters.
Speaker 1:                              02:27                       If we have little daughters or granddaughters or nieces or her school teacher, kindergarten teacher, a preschool teacher, to really think about the messages that we send.
New Speaker:                      02:41                       I think we have to be thoughtful and intentional and if you're if you have been raised traditionally by definition, I think you'll have to go against the grain. Go against something inside of yourself to break this pattern that lays a foundation for sexual harassment, sexual assault, sexual abuse.
New Speaker:                      03:11                       I want to be really clear about this, it doesn't make the woman responsible for what happens to her. It just that these internal messages matter. I think they create a vulnerability that can be taken advantage of or an internal conflict.
New Speaker:                      03:31                       I mean, if you think about it, a little child is powerless. The toddlers are powerless. We do this with my granddaughter… um, I mean she just so delightful. You just want to pick her up and eat her up and hug her and kiss her in and all that.
Speaker 1:                              03:49                       But her mother has encouraged me to do something different with her – to ask her permission first.
New Speaker:                      03:53                       I think it's so important to ask her first. Ask, "Can I pick you up" and …, nine times out of 10 I'd love to say she rushes into my arms. But she says, no, 9 times out of 10.
New Speaker:                      04:09                       And when you do have to pick her up..put her in the car seat or whatever her mother encourages you to say, "I'm going to pick you up now and put you in the car seat."
New Speaker:                      04:16                       So there are times when you take over her body, right? But um, if she allows you to pick her up and she says," down" she fully expects you to put her down.
New Speaker:                      04:30                       If you think about it, how powerful that is for her to get the sense that she can direct whether or not somebody picks her up and gives her a hug or she gives them a hug or puts her down.
New Speaker:                      04:47                       I mean that's gotta be encoded in the unconscious foundational part of her brain that she is valuable and she's in charge of what happens to her body.
Speaker 2:                              05:01                       Yeah.
Speaker 1:                              05:03                       So I think these messages when, when mothers say, Your safety comes before my social comfort." are important.
Speaker 2:                              05:13                       Yeah.
Speaker 1:                              05:15                       When mothers say, " If you tell me that you feel uncomfortable around a relative or family friend, I'm going to listen to you and take you seriously."
New Speaker:                      05:27                       That doesn't mean that you're going to run out and accuse a person of doing something. It might mean that you won't leave your daughter alone with the person…or that you will accompany her and supervise things. I mean, what, what could be wrong with that?
New Speaker:                      05:43                       That may mean that it inconveniences you, you'd rather be talking about the adults in the other room or something, but if you take that really seriously what she says and know she has to tell you something on, she'll be more likely to trust you later on.
New Speaker:                      06:01                       We expect kids to tell us everything without putting the foundational pieces in place. Um, so you don't owe anybody a hug or smile. I'll put your safety before my social comfort. And if you tell me you feel uncomfortable with a relative or even a family friend, um, I'll listen to you."
New Speaker:                      06:28                       I think where we can make these pledges to our daughters, our granddaughters, our nieces, anyone we're in charge of, as an adult authority figure.
New Speaker:                      06:42                       We heal a little bit within ourselves when we work to break these cycles and empower ourselves as we empower other women and daughters. This is Katherine Fabrizio with daughters rising. Thank you. Goodbye.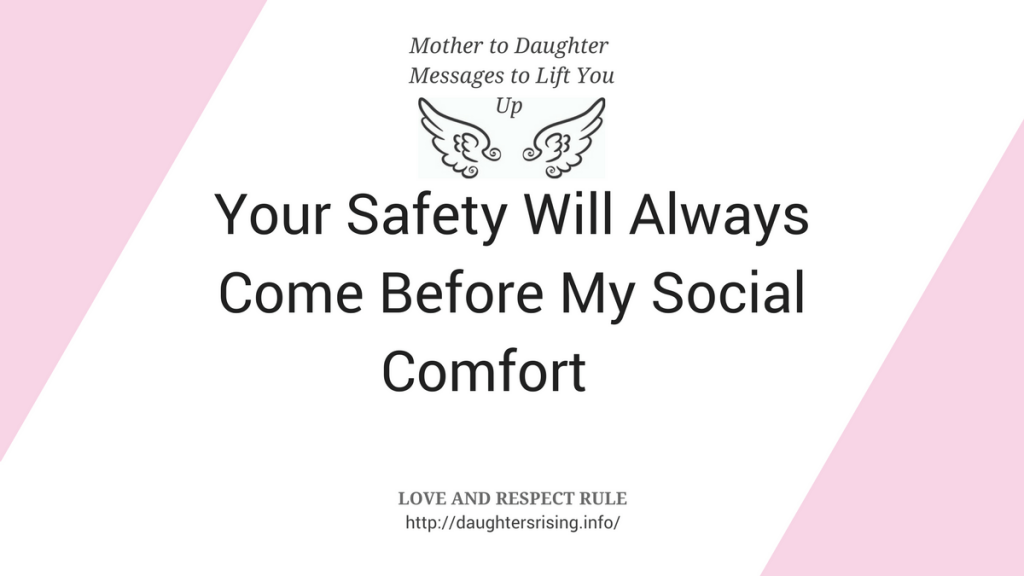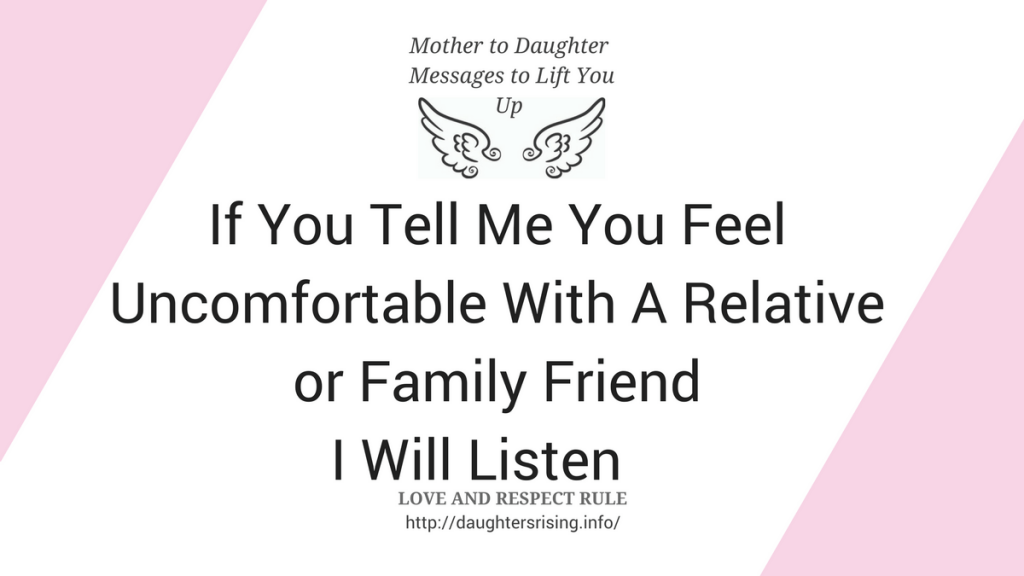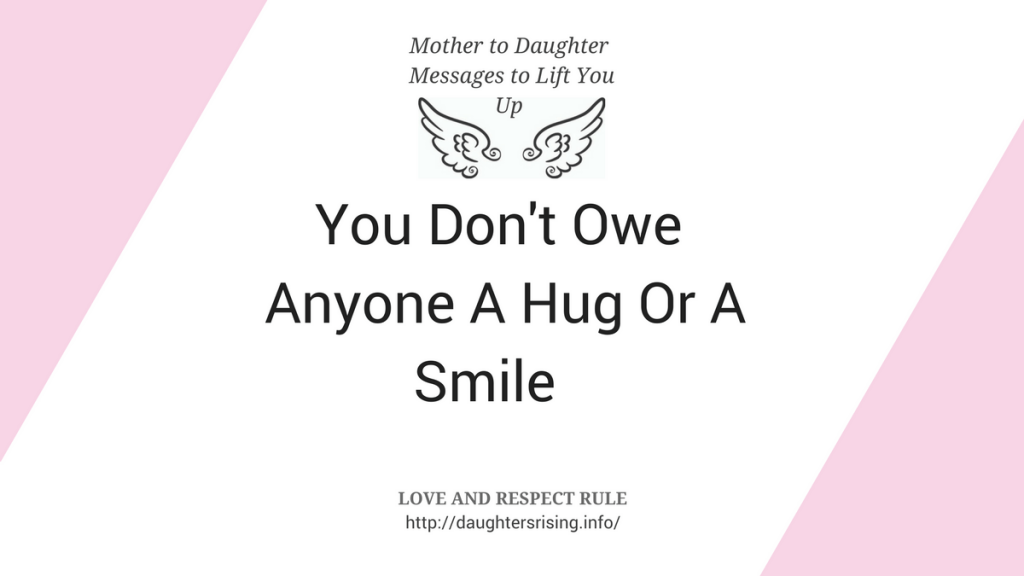 If you resonate with these messages, either for your daughter our yourself. Let's change the conversation.
Let's empower our daughters as we heal ourselves.
To find out if you have experienced the Good Daughter Syndrome go here.
3 Promises Mothers Can Make To Her Daughter Now -To Stop Sexual Assault & Abuse