How To Be More Creative – Part 2
Articles and other resources for helping you gain new perspectives and be more creative: ideas for enhancing creativity and innovation.
Continued from How To Be More Creative.
~~~~~~~
Need a Creativity Jolt? Drop by a Modern Art Show
By Lawrence E. McCullough | Mar 21, 2013
Synopsis: 8 Imagination Boosters I got from SCOPE New York 2013
WHAT'S TRULY WONDERFUL about so much of today's visual Art is that it engages every sense, not just what you see (or think you see).
Next time you're caught in a creative dry spell, spend a while wandering through a Contemporary Art show and have a universe of new ideas rain down on your parched psyche.
Case in point:  the just-concluded five-day SCOPE Fair at Moynihan Station in mid-town Manhattan featuring work by 90 exhibitors representing over 200 artists from around the world.
~~~~~~~~~
How To Be Creative When Your Brain Doesn't Want To Play
Here are 12 proven ways to be creative when your brain doesn't want to come out and play. To be creative, you need to start looking at where worlds collide.
Diligently Collect Information — Start collecting interesting ideas from articles, books, blog posts you've read, funny things that come up during the day, and anything that catches your eye or makes you go "hmmm". …
Go Old School With Some Pen And Paper — While I am as dependent on technology as the next person, I find that old fashioned pen and paper are best for note taking, planning, sketching, and thinking. It's a more active, tactile experience that has a totally different feel to it than typing. There is something about being able to hold those pages in your hand, set them next to each other, tape them together, draw arrows from one to the other, or manipulate them physically that gets the creative juices flowing.
Maximize The Power of The Intersection — Real creativity comes from intersections. Intersections of ideas, of cultures and of disciplines.
About the author:
Gary Korisko (@RebootAuthentic) writes about real world business strategy brought online, market creation and integrity selling on his blog Reboot Authentic. His FREE eBook, How To Alienate All The Right People, is a real-world guide to breaking away from the herd and doing something special.
~~~~~~~~~
The Secret to Creativity: Mike Dillon at TEDxEastsidePrep
"Creativity is not some sort of rare magic, it's actually an infinite resource – and it's kinda like a virus."
"Mike Dillon's background spans over three decades of experience in custom design and fabrication, including nearly five years at Disney as an Imagineer.
"Along with working in film and television, he also worked in advertising at Nordstrom, and designed and built mechanical animated window displays for major department stores in New York City."
~~~~~~~~
Cannes Festival Course Teaches Swedish Creativity – Advertising Age
New at Cannes in 2013: a crash course that promises to help agencies and marketers replicate Swedish creativity around the world.  The Cannes festival continues to go beyond handing out hardware, for the first time offering ad folks venturing to the South of France a crash course it promises can help agencies and marketers to replicate Swedish creativity around the world.
Dubbed [email protected], the course is described as a three-day creative immersion in lectures and workshops put together by the Swedish Institute and the Cannes Lions International Festival of Creativity.
~~~~~~~~~
10 Reasons Why We Struggle With Creativity – Forbes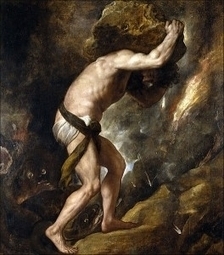 By David DiSalvo, www.forbes.com
[Sisyphus the Titan pushing his infamous boulder up the hill]

"There is always room, if only in one's own soul, to create a spot of Paradise, crazy though it may sound."
–Henry Miller, Preface to Stand Still Like the Hummingbird…
"I tell you: one must still have chaos in oneself, to give birth to a dancing star."
–Frederick Nietzsche, Thus Spake Zarathustra
Anyone who says "I don't have a creative bone in my body" is seriously underestimating their skeleton.  More to the point, they are drastically undervaluing their brain.
My contention in this article is that creativity is an integral part of being human, and to deny its expression is like denying the expression of other crucial human elements that we intuitively realize we'd be miserable without. How about a life without sex, to use one bare-knuckled example? Creativity is no less a part of who and what we are. What follows are 10 reasons why we frequently struggle to get into a creative space, along with suggestions on how to get there. …
[David DiSalvo is author of What Makes Your Brain Happy and Why You Should Do the Opposite]
~~~~~~~~~~~
An Interview with Michael Michalko on Creative Thinkering
[Michael Michalko is the author of Creative Thinkering: Putting Your Imagination to Work, Thinkertoys, Cracking Creativity, and ThinkPak.] 
Creativity demands that we should approach a problem on its own terms and look for a multiplicity of ways of looking at it and a multiplicity of ways of solving it. We are not taught that. We have been taught that there are clear constraints on what is logical and what is not.
~~~~~~~~
TEDxDirigo – John Paul Caponigro – YOU'RE A LOT MORE CREATIVE THAN YOU THINK YOU ARE
John Paul Caponigro is an internationally renowned fine artist. A contributing editor for Digital Photo Pro and AfterCapture, and a columnist for Photoshop User, Luminous-Landscape.com, Apple.com, and the Huffington Post, he is the author of Adobe Photoshop Master Class and the DVD series R/Evolution. A highly sought after lecturer, he teaches workshops around the globe.
~~~~~~~~~~~~
Book: The Gifts of Imperfection: Let Go of Who You Think You're Supposed to Be and Embrace Who You Are
by Brene Brown – she writes:
Let me sum up what I've learned about creativity from the world of Wholehearted living and loving:
"I'm not very creative" doesn't work. There's no such thing as creative people and non-creative people. There are only people who use their creativity and people who don't. Unused creativity doesn't just disappear. It lives within us until it's expressed, neglected to death, or suffocated by resentment and fear.
From the top of the Amazon.com list: Best Sellers in Creativity
~~~~~~~
Finally – here is an item from my Scoop.it collection :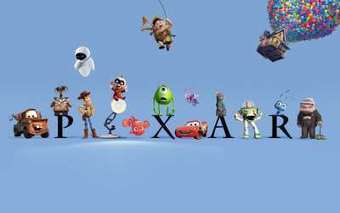 These rules were originally tweeted by Emma Coates, Pixar's Story Artist. Number 9 on the list – When you're stuck, make a list of what wouldn't happen next – is a great one and can apply to writers in all genres.
~~~~~~~
Please share with your friends:
APA Reference
Eby, D. (2013). How To Be More Creative – Part 2. Psych Central. Retrieved on October 18, 2017, from https://blogs.psychcentral.com/creative-mind/2013/03/how-to-be-more-creative-part-2/