Archives for Letters
In a letter to the editor of the Journal of the American Psychiatric Association , printed November 2010, Alan Eppel, M.B., F.R.C.P.C. cites an article published in the July 2010 issue of the journal that examined the use of antidepressants in bipolar II disorder. Mr. Eppel questions the clinical significance of the results of the study and claims the study adds "more fuel to the three-decades old debate between those who advocate minimal use of antidepressants in the treatment of bipolar disorder and those who favor maximal usage." Debate continues to swirl among psychiatrists about the risks/benefits of antidepressant use in bipolar. The July article suggests people with bipolar II who take antidepressants as opposed to lithium or placebo have a longer interval before relapsing into a depressive episode.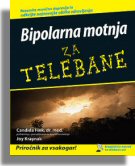 I recently received an email message from the translator who's doing the Slovene translation of Bipolar Disorder For Dummies. Following is the letter (included here with permission).